Know that religion is a repetitious act or it is nothing. The "re" is the holy prefix, since nothing is successful the first time. It must be forever the "re," the returning, the restructuring, the re-lexion, the reconstitution, the building back from defeat. We will rebuild in the dark and in the light; we will work without ceasing.
Even our mysterious Maker was the Re-deemer, the re-doomer who wrangles for us a second and better doom, the ransomer, the re-buyer, the re-d-emptor. We are sold and we are ransomed, we are lost and we are found. We are dead and we are re-surrected, which is to say "surged up again."
-R. A. Lafferty, 'And Walk Now Gently Through the Fire' (1972)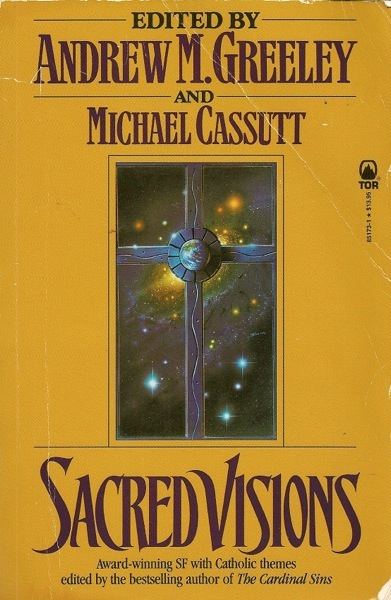 Sacred Visions (1991). Contents: Gus / Jack McDevitt -- Pope of the Chimps / Robert Silverberg -- Curious elation / Michael Cassutt -- Trinity / Nancy Kress -- Saint Theresa of the aliens / James Patrick Kelly -- Our lady of the endless sky / Jeff Duntemann -- Seraph from its sepulcher / Gene Wolfe -- Case of conscience / James Blish -- Xorinda the witch / Andrew Greeley -- Canticle for Leibowitz / Walter M. Miller, Jr. -- Quest for Saint Aquin / Anthony Boucher -- Walk now gently through the fire / R. A. Lafferty.